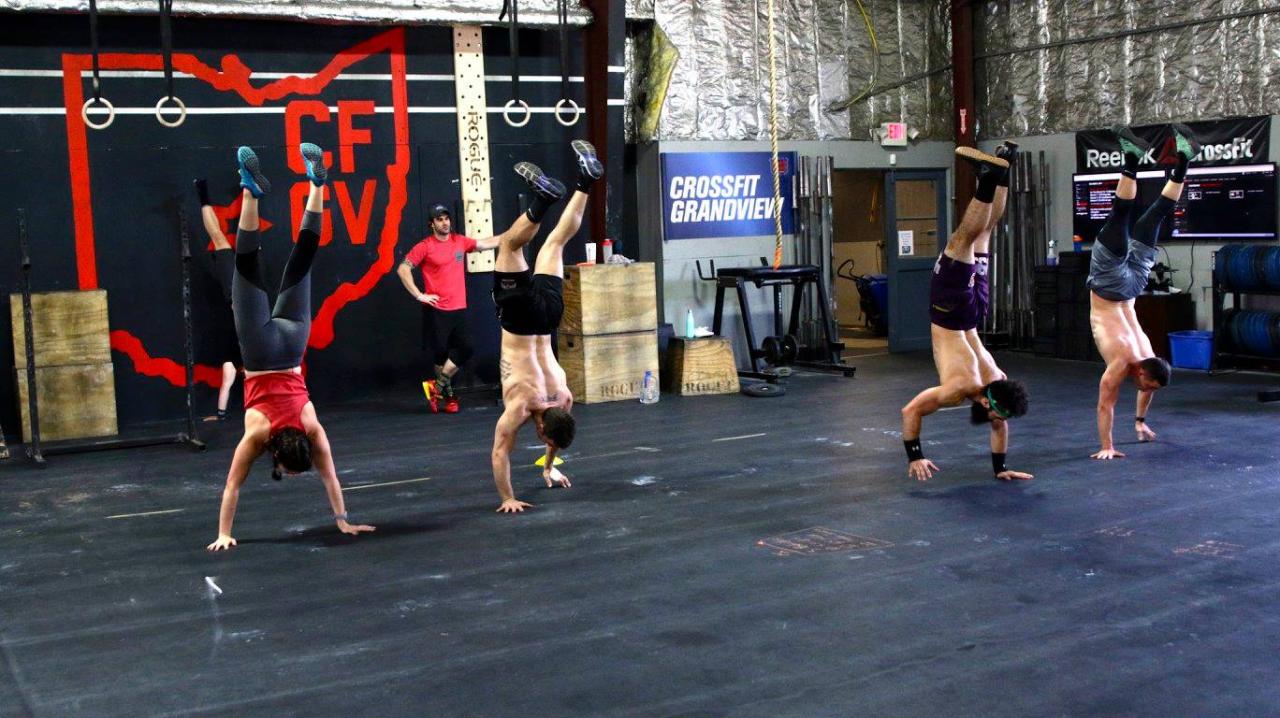 Don't let the calm exterior of the saffron-colored CrossFit BGI Fitness building in West Palm Beach fool you.
On any given day, you can find a mob of competitive clients performing an array of CrossFit  training exercises where strength, speed, balance, stamina, coordination, and flexibility are all put to the test.
Kettlebells, medicine balls, plyo boxes and strength bands have replaced standard treadmills, stair steppers and elliptical machines normally found at other health clubs. Save for a few rowers, there are no machines, no slackers, and no horsing around until after all the hard work is done. Rest assured, this ain't your mama's gym!
 According to certified personal trainer and BGI (south location) owner Dana Lynch, "We do a lot of our workout on a time clock." "Less talk and more chalk," she joked.  She added that  machines are no good for CrossFit training workouts. "We're trying to make machines out of people by using compound or multi-joint movements." "Machines don't do that properly, only moving one joint at time in a forced position," she said.
Lynch describes BGI as more of a community than a gym where doctors, athletes, firefighters,  full-time moms and retired grandparents train side by side. Her youngest student is 9, and her oldest is 67. Classes are small, capped at 10-14 people. This way, trainers are able to scale the workouts based on each client's physical capabilities. 
Training is varied on a daily basis to keep workouts challenging and to prevent clients from adapting to the same exercises.  Military presses, chin ups, sumo deadlifts, jumping rope, and  200-400 meter running with sandbags are just a few of the several exercises in which clients can expect to partake. Says Lynch, who is also a CrossFit Level 2 trainer, "anyone can do cross fitness training, but it's not for everyone." 
There are a variety of memberships at BGI including a  monthly membership of $150 for 12 sessions, and $200 for an unlimited membership.  This, as Lynch points out, is far cheaper than having your own personal trainer.
Classes typically run 45-50 minutes long between the warmup, demonstration of movements, skill instructions, workout and cool down. It's a challenging process, but Lynch wants everyone to feel at ease with what they're able to accomplish. 
"Our goal is to get everyone finishing at the same time. …in about 20 minutes," she said. 
BGI Fitness wants to find the hidden Olympian in you. Take a CrossFit training challenge with them this summer!
 Below is a slideshow of photos from BGI's CrossFit training program.
Like what you're reading? Click on the subscribe button. It's free.